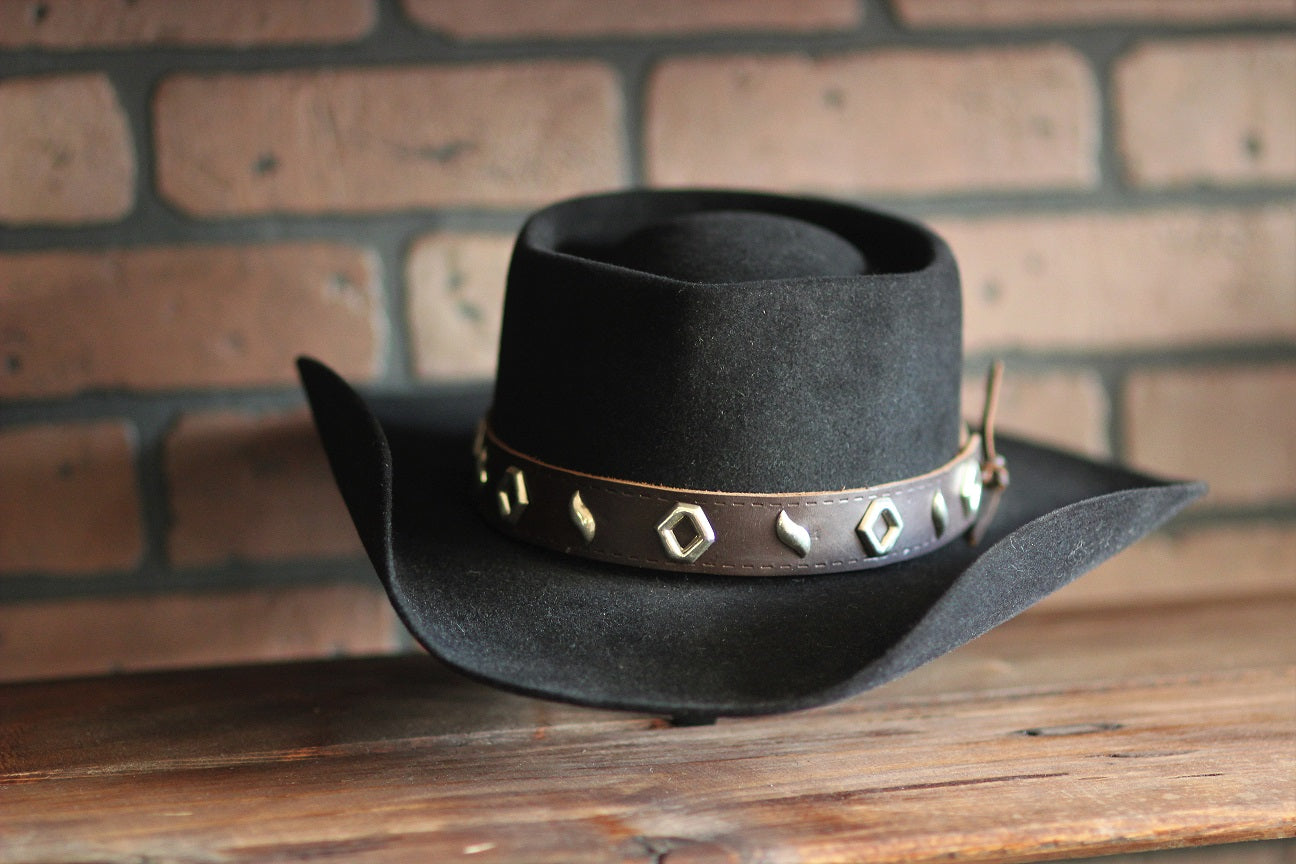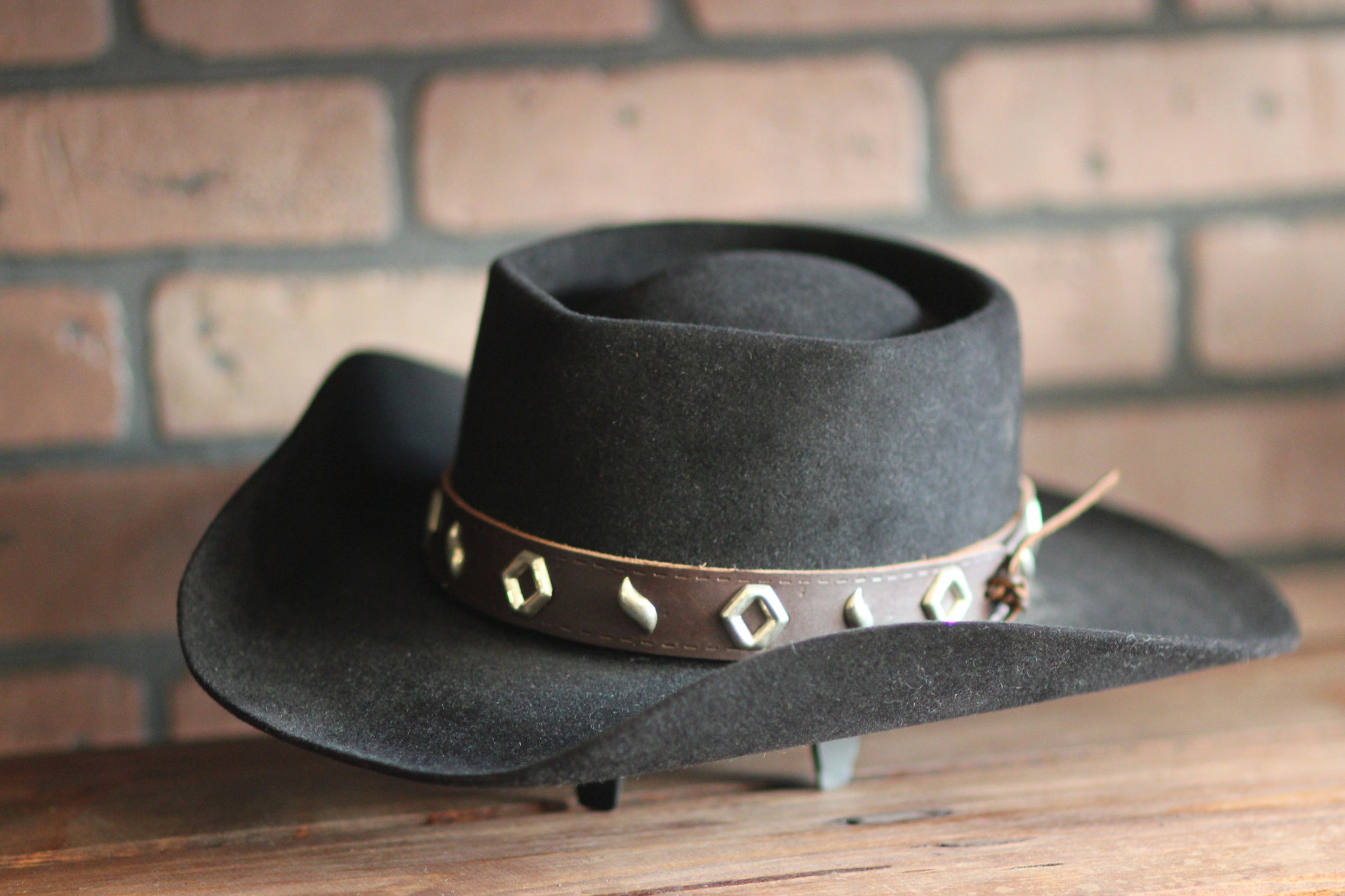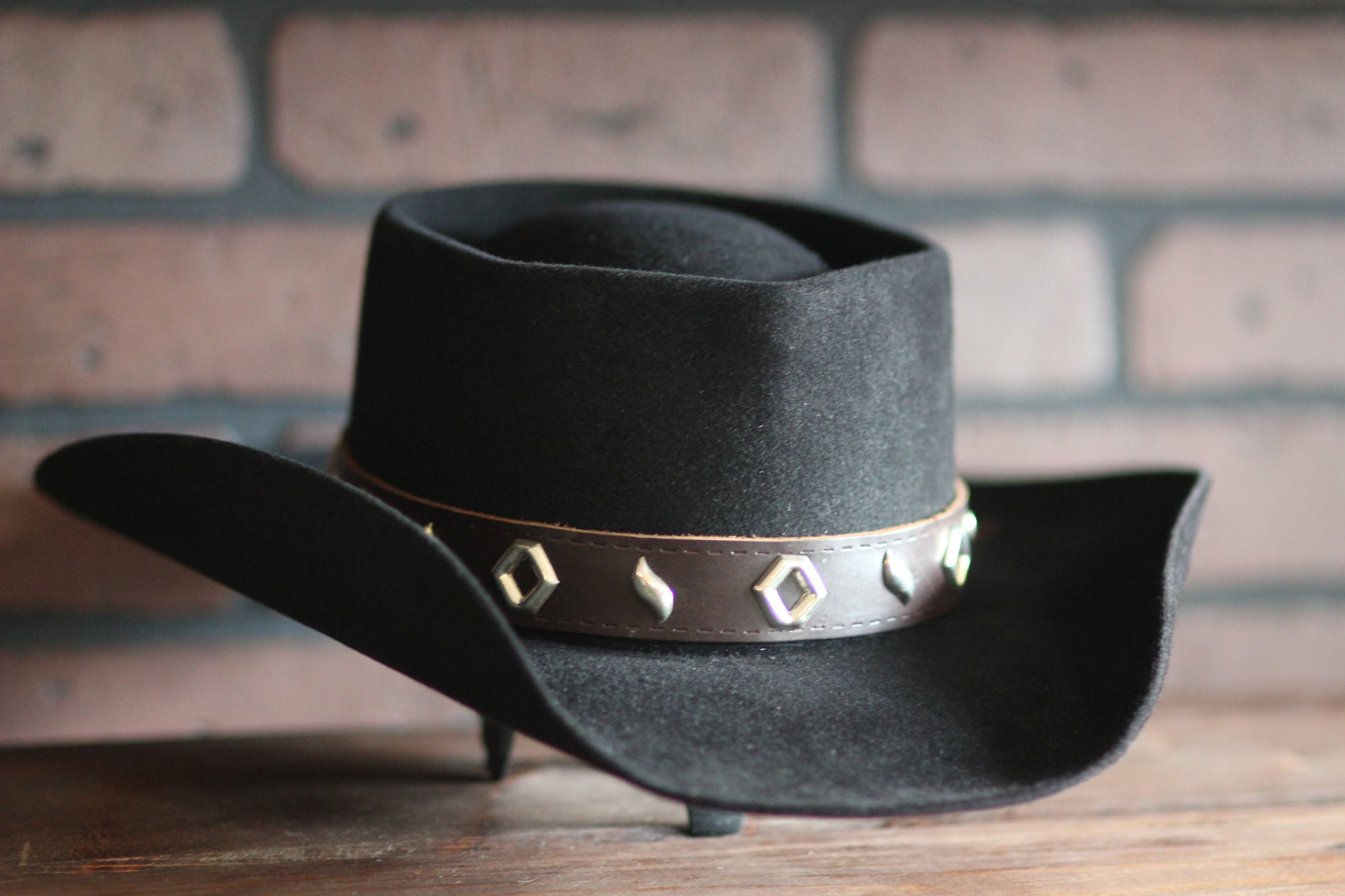 The Hannibal (Alias Smith and Jones 1971)
Details
Unavailable $1,000.00
| /
Inspired by the memorable hat worn by the late Pete Duel in the cult classic TV Western series "Alias Smith and Jones"    It's no secret that "Smith and Jones" was encouraged by the then box office smash...
Read more
Inspired by the memorable hat worn by the late Pete Duel in the cult classic TV Western series "Alias Smith and Jones" 
It's no secret that "Smith and Jones" was encouraged by the then box office smash "Butch Cassidy and the Sundance Kid", right down to the casting of two young actors who resembled Paul Newman and Robert Redford. The series had the same dry humor and was peppered every week with well known (or at least very familiar looking) western character actors, not to mention some other interesting casting including Sally Field and Rudy Valle.
Even though this series only lasted three years, and was hit with the most devastating of tragedy's, it has continued to live on through a network of an ever growing fan base throughout the world, especially in the UK, now made even more popular with the release of the full Series on DVD. The casting of Pete Duel as Hannibal Heyes (alias "Joshua Smith"), and Ben Murphy as Jed "Kid Curry" (alias "Thaddeus Jones") was pure genius, and obviously was the reason for its popularity at the time, not to mention and all these years later.
As beautiful as this classic high crown Western hat is, the special hatband is really what defined this as a "Hannibal". Baron's took special care and great research to craft the two silver Concho shapes so they would match the original as close as possible. Each "Hannibal" (both in Fur Felt and Beaver), comes with a recreation of the original leather hatband, with both hand-inlaid crescent and rhombus shaped "dedos del öngel" silver Conchos surrounding the band.
In the second season the Heyes hat had stampede strings. Some fans like them and others would rather have the hat without them. It's a personal decision. If you do want them, we will install these special strings, each hand-woven to order, in the original pattern, for an additional price.
Since each "Hannibal" is hand crafted to order for you, please allow at least 4-6 months both creation of the hat, and the silversmithing of the original Concho hatband. 
Color
Black
Felt Quality
100% Western Weight Fur Felt or 100% 200XXX Beaver
Crown (open)
6"
Crown Shape
Pinched Western telescope
Shaped Crown Front
4.5"
Shaped Crown Back
4.5"
Brim Width
4"
Brim Shape
Hand curls on sides
Brim Edge
Raw
Hat Band
Conchos spaced 1" apart
3/4" Special Leather and Silver Conchos Hatband
Stampede Strings (optional)
Hand-Woven Leather
Aging
Optional
Want to know your hat size?
PLEASE TAKE A MOMENT TO READ OUR RETURN/REFUND POLICY and all conditions of sale in our Service Policy at customer service
By submitting this order you understand, agree and accept all conditions as set forth in our Service Agreement, including, but not limited to our custom hat refund policy. Unless otherwise noted, shipping dates as they appear on your invoice, are approximations. Conditions beyond our control including, but not limited to availability of special custom materials can effect completion dates.   
©1971 Universal /MCA _ all rights reserved
* Disclaimer: "Alias Smith And Jones"" is Trademarked (TM) and © (or copyrighted) 1971 by Universal City Studios. Any reproduction, duplication or distribution of these materials in any form is prohibited. "The Hannibal" hat and "The K.C." are made in the style of classic hats as are standard in the costume industry. Baron Hats, Inc, is not affiliated in any way, nor do they by fact or inference imply to hold any rights or authorization, rights of association or sponsorship or endorsement of the use of any copyrights or trademarks as held by any individuals, or companies mentioned or pictured in association with this offer, including, but not limited to Glen A. Larson, Ben Murphy, Pete Duel, Paul Frees, Roger Davis, their representatives and assignees, or their Estates and their representatives and assignees, nor to Universal City Studios, or American Broadcast Company (ABC), nor their representatives and assignees.